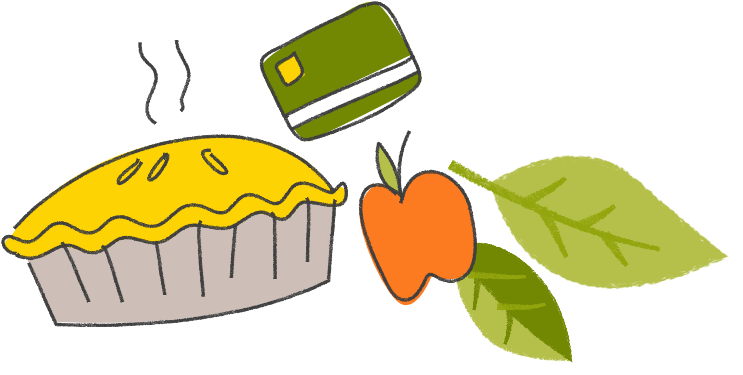 In some of the earliest recorded minutes of Houston Christian School's Society, it was acknowledged that Christian schools come about with great sacrifice. Through obedience to God's will, Houston Christian School was planned, built, and continues to be maintained. 
God has blessed HCS with a generous community of supporters, for whom we are abundantly grateful. We encourage all of our HCS families to seek out ways to participate in our various fundraising opportunities. 
"If we do what we can with the power God has given us, then God will do what we cannot. In Him we shall be strong."
Buy Low Gift Cards
HCS sells Buy Low gift cards as an ongoing fundraiser. We make an incredible 10% profit on all gift cards sold. Simply come in and purchase some gift cards (with cash or cheque) before you go grocery shopping and help the school in the process. Gift cards may also be purchased by e-transfer one business day prior to pick-up.
Apple Pie Days
Every fall, HCS sells delicious Dutch apple crumble pies, made from scratch, by many willing hands here on campus. Abundant volunteers are needed in the joyful assembly line of pie production and you are warmly invited to join the community-building fun by signing up to help.
Spring Fundraisers
Alternating annually in the spring, are two large community event fundraisers. In even numbered years, we join together to raise funds for the school with the HCS Golf Tournament. This enjoyable day of best ball golf at the local course involves many laughs, delicious food, and fabulous prizes. In odd numbered years, we meet in the school gym in the evening for the Spring Dessert Auction. This evening involves delightful fellowship, engaging entertainment, and an outstanding array of items up for bid in both a silent and a live auction. There are many ways to support these spring fundraisers and we look forward to seeing you there!
Deep Roots ASK Campaign
Every fall, HCS organizes an ASK campaign, designed to meet a specific need of the school. This highly successful annual drive has resulted in much needed funds for upgrades to the campus' washrooms, furnaces, and playground.